HAVE A BAD CREDIT? GET CASH IN 4 EASY STEPS
BAD CREDIT LOANS CANADA: APPLICATION REQUIREMENTS
BAD CREDIT LOANS FOR PEOPLE WITH BAD CREDIT
Flexible Terms And Affordable Payments
Bad credit loans might be your only solution if you answer yes to any of the following questions:  Do you need a loan? Have you been turned down for a mortgage, a car loan, defaulted on a debt, or declared bankrupt? If you have been turned down for a loan for any of these reasons then your only option of getting a loan right now might be to get a bad credit loan.
Bad Credit Loans Canada
Every day, thousands of Canadians, through no fault of their own, run into financial difficulties. Job loss, legal problems, and economic downturns can all combine to damage your financial situation and your credit score.
Anyone who's been through it can tell you: a bad credit rating can severely limit your options. It's harder to get a mortgage, a credit card, line of credit, and it's harder to get financing for that renovation project that you so much desire. Rightly or wrongly, you're seen as a bad risk, and that affects your ability to own a home, buy a car, start a business, or improve your property. It can even impact your career prospects. Access to credit is often the key to success in both business and personal matters. Not having it just makes everything that much more of a struggle, hence why loans should be considered to fix bad credit with Loan Away.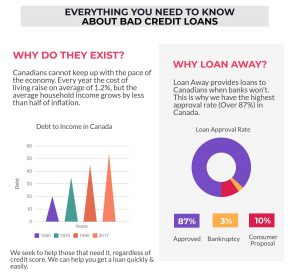 This is where Loan Away Inc. comes in. At Loan Away Inc., we specialize in giving bad credit loans in Canada. Our business is about helping borrowers who have been turned away by the banks to get a loan.  We provide them with alternatives to getting a loan outside of the banks. We provide what is called bad credit loans.
We are not here to judge you.  We are more interested in your ability to pay back the loan.  We care about you more than where you are on the credit score range. Whatever your financial situation, our staff of friendly and professional advisers will work with you to craft a flexible and affordable loan solution customized to your needs. Don't let money trouble stress you out.  If you live in Canada, our bad credit loans can help you in so many ways:
Bad
Credit Loans: Helping You To Get A Mortgage
Loan Away Inc. doesn't give mortgages, but we can help you to build your score with our loans for bad credit to enable you to get a mortgage in future. Home ownership is a traditional part of the dream for many Canadians. For most Canadians, buying a home, whether it's a house, townhouse, or condo, is the single biggest purchase they'll ever make which requires financing. Financing it can be tricky. Finding the resources for a down payment can be daunting. And when you've got bad credit, finding a mortgage lender can be a challenge.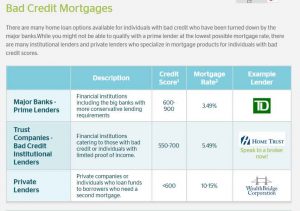 Loan Away Inc. doesn't offer mortgage loans but our shorter-term loans can help you get a mortgage in the long run. Although we don't offer real estate loans or traditional mortgage loans, our loans can help you to re-build your credit. Once your credit is better, you can apply for a mortgage from one of the traditional lenders.
Repairing Your Credit With Bad Credit Loans In Canada
There two main things to do in order to improve your credit score. The first is making arrangements to pay off the loans or credit card bills that you have defaulted on, which gave you the bad credit score in the first place.  You can consolidate all your loans and credit card payments into one loan from Loan Away.
The second thing you may want to do is to get a fresh new loan or credit card that you will service regularly to build some good repayment history. The new loan company or the credit card company will start sending your history of payments to a credit reference agency, or a credit bureau as they are sometimes called, to report on how well or badly you are doing with the monthly repayment of your new credit card or loan. A good repayment record will help improve your credit score. Once you have a good credit score you can then apply for a loan or mortgage from a more traditional bank.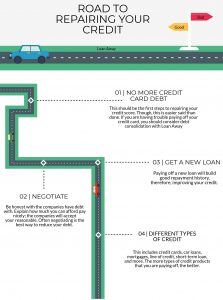 Therefore, it goes without saying that to rebuild your credit, you must keep up with the monthly repayments of your new loans. The problem is, the traditional credit card companies or banks will not give you the new credit card or the new loan that you require to start rebuilding your credit history. This is where Loan Way comes in. When the major banks turn you down, Loan Away Inc. is there to help. Loan Away Inc. specializes in giving bad credit loans, that is, providing loans to people with bad credit.
Bad Credit Loans Canada – Helping You To Get A Car
Is your car on its last legs? Are you ready for an upgrade but having trouble finding the money? Is your poor credit history in Canada preventing you from getting a car loan? Loan Away Inc. doesn't give direct auto loans but they can still help you to get a car by giving you a bad credit loan.  With that loan, you may be able to pay off the car outright or use the money as a down payment to finance the car. Applying for a bad credit loan from Loan Away is quick and easy. Everything is done online and on the phone.
Commercial Financing Using Bad Credit Loans In Canada
Do you need a small business loan? If you have a bad credit history and therefore can't get a loan from anywhere else, we'll work with you to secure a small business loan from us.
Most of our loans are from $1,000 to $5,000. Running or Starting a small business means dozens of things to deal with. At Loan Away Inc., we believe that raisshort-termt term loan doesn't have to be one of them. We understand the needs and challenges of independent businesses. Our bad credit loans are designed to help you to get your business going.
Getting The Best Bad Credit Loan Canada Has To Offer
So keep that in mind the next time you're on Google looking up the term Poor Credit Loan Canada.So how do you know you're onto a good source for a poor credit loan? At LoanAway, we don't set up deliberately tight repayment windows. Quite the opposite. Many of our clients benefit from a timeline as long as 36 months to repay the loan.
We also offer loans at rates that are on par with the market and we do NOT charge penalty fees. If you do have any trouble making a payment on your loan, simply reach out to our customer support team and they'll be happy to do what they can to help.Best of all, since you have less than stellar credit, you can enjoy the opportunity to rebuild your credit score using our loans. It is very possible for you to start with a bad credit rating at the time of your loan, and steadily bring yourself up to a credit score no lender would refuse.
Whatever you need your loan for, we understand that you also happen to need it quickly. That's why we've designed our process to work quickly. It will only take you 8 minutes to fill out our online application.Our office will immediately receive your application and our team of specialists will get to work on your application right away. You can expect same day approval if we have all of your required documents.Some of our customers have received their loans as quickly as 24 hours after initially applying. Contact us if you have any questions.
Bad Credit Personal Loans
Even with so many private lenders offering you a bad credit loan Canada unfortunately still has a lot of people who can not get loans. Bad credit personal loans are our specialty. Anyone can face unexpected personal expenses, any day, for any reason. When you have a bad credit history and traditional routes to getting financing aren't available, Loan Away Inc.'s bad credit loan services can make the difference.
Are you being pursued by collection agencies? Do you need to consolidate previous debts and arrange for more affordable repayment terms? We can work with you to get a loan that can consolidate all your other loans by paying them off with one loan from Loan Away Inc.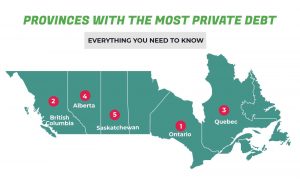 Our loans are not just for paying off the bill collectors. Maybe you're looking at upgrading your home appliances or pay for education. Maybe you've run into some unanticipated medical expenses that aren't covered by public health care plans, or you just really need a vacation. Whatever your needs are, we're here to help.
Bad Credit Loans Canada Guaranteed Approval
You can get unsecured loans for bad credit with guaranteed approval in Canada.  Guaranteed approval means you are more likely to get the loan when you apply.  Lenders who give guaranteed approval for bad credit personal loans are more interested in whether you can pay back the loan much more than in your credit history.  If you can prove that you can pay back the loan, you can apply for bad credit personal loans with guaranteed approval and this will start you on the road of achieving the highest credit score you've had in a while.
Bad Credit Loan Canada: Where you can you find one?
It's really not too much of a shock to learn that the search term Bad Credit Loan Canada is becoming one of the most popular searches in all the big search engines. While Canada's economy is not depressed, the Canadian jobs market has certainly seen better days.
Ontario is still officially designated as a 'have-not' province given the state of its economic affairs, Alberta's finances are still reeling in shock from the oil industry and British Columbia isn't faring much better either. Our three most powerful provinces are in the hole – no wonder Bad Credit Loan Canada is one of the most popular search these days.So how does one get a poor credit loan in Canada? Well, first, let's start with a warning.Be very careful with what you find when you do type Bad Credit Loan Canada into Google. There are some options out there you really don't want to consider. That option being payday loans.
The payday loans industry has a rotten reputation, and with good reason. They are not here to help you. In fact, if you have less than good credit and you're just trying to get a leg up, payday loan lenders are almost guaranteed to make your credit even worse.
How?
It all begins with their lending structure. Their interest rates are already high above the market average, but, not quite high enough for them to make a worthwhile profit. With that being the case, payday lenders have made the repayment window almost impossible to meet.They know that if they can lend you just enough money, you won't be able to repay the principal and the interest on time (because you have your regular financial obligations to meet) and that's when they can start charging as much as 600% interest over the long haul.
Loan Away Bad Credit Loan Can Help
For bad credit loans Canada has many private lenders that you can apply to. Type phrases like bad credit loans Canada or even bad credit loans Canada guaranteed approval in google, and you will see what I mean.  At Loan Away Inc., we specialize in saying "yes" when the banks say "no". If you can prove to us that you can make the required monthly repayments of the loan, we can grant you a bad credit loan. The loan application is completed online and takes less than eight minutes to finish.  Our team of specialists will review the application in real time and inform you of how much we can lend you.  More than 90 percent of applications for our bad credit loans are approved and we presently serve Alberta, Newfoundland and Ontario.
If you have a poor credit history and you need a loan urgently, don't let that stand in the way.

We are committed to provide best customer experience possible. Currently we offer personal term loans in Ontario, Alberta and Newfoundland, but do check back with us soon, as we are working on expanding our reach to other provinces and territories.
Get your loan today
We will notify you of a decision in as little as 30 minutes