PayDay Loan is a recipe for financial disaster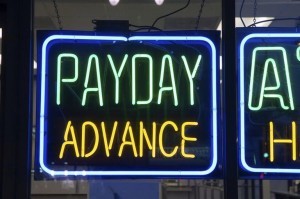 Why are PayDay Loans a disaster?
There's hardly anything more frustrating than working hard at your job, coming home tired and yet, you sometimes find that you can't cover a large expense. It's this very frustration that typically leads to the dreaded payday loan.
The reasons more Canadians don't have an emergency fund in place are many. Life keeps getting more expensive, some economies (like Alberta's) tank in the blink of an eye and people are too busy managing the fallout to establish a rainy day fund.
If you're a Canadian with an imperfect credit score, you have no substantial savings and you suddenly find yourself in a situation where you have to cover a large expense you weren't expecting (such as emergency dental care, for example), you might be tempted to take out a payday loan.
It's during these tough times that we discover that banks are NOT our friend and that their stalling only makes whatever dire situation you need a loan to cover worse…only to decline you.
The companies who want to sell you a payday loan know exactly how much pressure and stress you're under and they have no problem taking full advantage of your dire circumstances and locking you into a situation that could result in a need to borrow even more money.
What some Canadian provinces are doing about payday loans
A pound of flesh…
The only true criteria for a payday loan lender is that you have a job and that you are the age of majority. They don't care about credit history, but with that being said, they also don't offer a whole lot. In some cases, $1000 is the most you can expect and that might not cover whatever you're trying to solve.
Seeing as how you'll be expected to pay as much as $21 for every $100 you borrow, the game is slanted so that you can't possibly meet the 14-day deadline to repay the principal AND the interest with your next pay cheque.
They don't want you to succeed in doing that – that's not where the money is with the payday loan industry. It's the penalties for late repayment that bring in the real profits.
Once you find yourself in the penalty zone, the disaster begins. Every pay cheque you have to pay more exorbitant interest, without ever being able to clear the remaining money owed in one shot.
Ultimately, you can find yourself paying as much as $500 for every $100 borrowed. Could actually get worse if, God forbid, you encounter another emergency that calls for a large sum of money – and this does happen.
Another way in which the payday loan cycle extends itself is when a borrower finds himself desperate – so desperate – that without thinking things through, takes out a payday loan with another company to settle the original debt…without considering that he's only extending his problem.
The Payday Loan Industry vs. The Law
The notoriety of the payday loan industry and its predatory lending practices are today getting much-unwanted attention from both the press and the government alike. Social groups have been adding tremendous pressure on lawmakers to regulate the industry and it's working – but not quickly enough.
There is only so much the government can do, but they can't legislate the worst aspects of the payday loan industry away.
Alternatives to taking out a payday loan
Even if you get declined by a conventional bank for a loan, you do have options other than taking on a payday loan.
That option comes in the form of a private term loan and repayment can be as low as $50 a week. Private lenders work somewhat similarly to banks except that they're nowhere near as rigid with their application process and move A LOT faster with approvals.
The only criteria you have to meet to qualify for a private loan:
You must be of legal age
You must be employed
You must be a permanent Canadian citizen
You cannot be in the midst of bankruptcy
With LoanAway, a popular private lender, your application for a loan can be approved in just a couple of hours and once approved, you could receive that money as quickly as 24 hours later.
You could also qualify for a loan of up to $5000, which you can repay over a period of as long as 36 months. That sure sounds better than the hell of doing business with the payday loan industry, doesn't it?
Word Count: 760